By : Amoya Edwards
When Hurricane Harvey reached Texas in late August, no one knew just how damaging it might be. The wrath of Harvey devastated not only the Houston area, but surrounding cities such as Beaumont, Port Arthur, Orange, Lake Charles, Louisiana and other surrounding Gulf Coast cities.
As first responders were inundated with thousands of calls from Texas and Louisiana residents, social media became a reliable and trusted savior, while flood waters destroyed. When 911 failed some residents, Facebook, Twitter, Instagram and the neighborhood app Nextdoor all functioned as alerts and bulletin boards of information for victims and community members during the crisis.
Since Harvey hit Houston, we've seen the effects of Irma on the coast of Florida, earthquake devastation in Mexico City and Hurricane Maria's recent apocalyptic damage in Puerto Rico. However, Hurricane Harvey is the storm that put social media's role during natural disasters at the forefront. Deemed as the U.S.' first social media storm by TIME, here are a few things I gleaned from watching community members galvanize support and relief through social media.
Local social influencers used their voices and resources.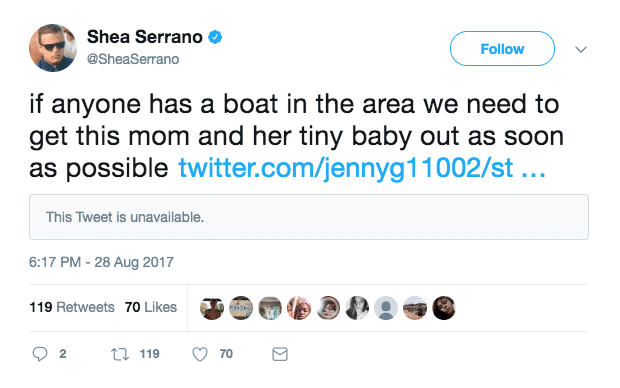 A universal feeling of helplessness plagued Houstonians who weren't profoundly impacted by the storm. In response, they turned to the one avenue they use daily to help in a way that they could, immediately – social media. By taking screenshots and posting and retweeting information across channels, Texas natives with larger audiences such as Shea Serrano were able to spread the word to the masses and get help for neighbors.